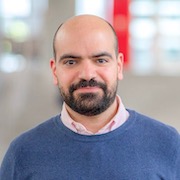 Hi! My name is Majid Fatemian and I'm a Principal Software engineer of Data Platform at Red Ventures, where over 1 Billion events per day are ingested and processed with %99.99999 durability, < 500ms latency and %100 uptime.
Being passionate about building reliable and scalable software in distributed environments, Big Data Pipelines are where I have found my home.
Before joining Red Ventures in 2015, I worked at Ubisoft Montréal, YEP! Interactive, Parspake, etc.