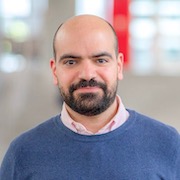 My name is Majid Fatemian, and I'm a Principal Software engineer of Data Platform at Red Ventures, living in Montréal, Canada (🇨🇦) .
We ingest and process over 1 Billion events every day with 99.99999% durability, < 500ms latency, and 100% uptime.
Quite a feat? You bet! But I'm passionate about building reliable and scalable software in distributed environments, and I found my home in Big Data Pipelines.
With over 18 years of industry experience, I'm here to bring you powerful Software and Big Data Engineering insights you can leverage in your projects.
I worked at enterprises like Ubisoft Montréal and start-ups like YEP! Interactive and Parspake.
Connect with me at any of the conferences I present or on Twitter @majidfn.